By: Katherine Fico, PharmD, BCACP
      Clinical Pharmacist Lead Advisor at SoNE HEALTH
SoNE HEALTH supports patients by collaborating as an interdisciplinary team of healthcare professionals, including physicians, advanced practice providers, nurses, pharmacists, social workers, and community health workers.
The SoNE HEALTH Clinical Pharmacists focus on medication optimization, medication adherence, and deprescribing especially when polypharmacy exists. Centers for Medicare and Medicaid Services (CMS) define polypharmacy as taking more than 3 to 5 prescription or over-the-counter medications. Polypharmacy is associated with adverse drug reactions, increased hospitalizations, and higher costs of care for both the patient and the healthcare system.1
Patient Story:
A SoNE HEALTH nurse care manager followed up with Sandra*, a 67-year-old female, after a recent hospitalization for a heart failure exacerbation. Her medical history included heart failure with reduced ejection fraction (HFrEF), type 2 diabetes, hypertension, generalized anxiety disorder, asthma, major depressive disorder, and migraines. The nurse care manager identified this patient had fourteen prescribed medications from several providers in different healthcare systems. Due to her complex medical history and medication regimen, she was referred to the SoNE clinical pharmacist for a comprehensive medication review.
After reviewing the electronic medical record (EMR), obtaining medical records from out-of-network specialists, and performing a medication reconciliation with the patient, the clinical pharmacist discovered several discrepancies and opportunities for optimization:
some medications pre-packed into monthly pill box and some were in medication vials
missing prescribed medications – Advair inhaler and Epi-Pen
incorrect inhaler technique
incorrect inhaler dosing – confusion between maintenance inhaler and rescue inhaler
duplication of therapy – taking fluvoxamine and duloxetine at the same time
beta-blocker (medication for HFrEF) was under-dosed for full benefit
unaffordable medication copays and expenses
home blood pressure monitor was not functioning
Interventions & Recommendations:
The SoNE clinical pharmacist coordinated with the patient's pharmacy to organize and synchronize all medications into the pre-packed monthly pill box.
New medication orders for Advair and Epi-Pen were requested from the provider. Proper dosing and technique of the Advair inhaler were reviewed. Sandra's psychologist was contacted to clarify the plan to stop duloxetine and start fluvoxamine. The clinical pharmacist called the patient's pharmacy to discontinue future orders for duloxetine to prevent it from being filled inadvertently. Additionally, the SoNE Clinical Pharmacist re-sent lab orders from the psychiatrist to an in-network laboratory to save the patient additional out-of-pocket expenses.
The clinical pharmacist coordinated with the cardiologist to increase the dose of her beta-blocker to reduce the risk of future heart failure exacerbations. She identified that the patient needed a blood pressure monitor and a scale, so she referred to the SoNE Community Health Worker (CHW) to assist with this task. The patient was educated about how to use a Self-Management Action Plan to identify when to call her cardiologist.
The SoNE Social Worker helped to identify the patient's current standing with Medicaid. It was discovered that she was eligible for Medicaid, so her medication copays were reduced and became affordable to the patient.
Because of the interventions of the nurse, pharmacist, community health worker, and social worker, the patient was able to afford and take her medications as prescribed and self-monitor her condition at home. Sandra was not hospitalized in more than 90 days following these interventions. Sandra was appreciative that SoNE HEALTH team members were part of her care team.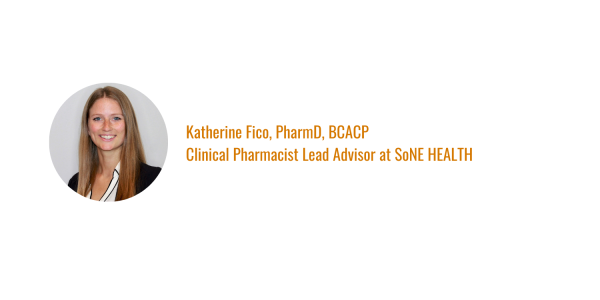 References:
Hoel, R., Giddings Connolly, R., & Takahashi, P. (2021, January). Polypharmacy Management in Older Patients . Mayo Clinic.